NZ Commerce Commison Draft Guidelines for Credit Fees
Thursday, 2 April 2009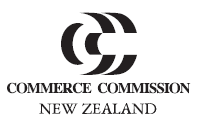 The Commerce Commission is charged under the Credit Contracts and Consumer Finance Act (CCCFA) with enforcing the Act and have released for consultation a set of draft guidelines to inform Creditors and Consumers about the Commissions approach to enforcing the Credit Fee provisions under the Act.
The guidelines represent the Commission's current views about the fees provisions under the Act and will also provide guidance to creditors on what the Commission considers to be the characteristics of a reasonable establishment, credit and default fee.
In the absence of judicial precedent, the Commission considers this guidance should provide further clarity and enable the credit industry to set fees that are consistent with the approach taken by the Commission thereby avoiding being investigated by the Commission.
The Consultation period runs until 1 May 2009 with feedback being sought from interested parties by that date.
To review the Guidelines please see click here ...Draft CCCF Act Guidelines for credit fees