Client Newsletter
Wednesday, 27 November 2019
There are changes on the way for the Credit Contracts and Consumer Finance Act (CCCFA) and if the proposed legislation passes in its current form, changes to the Act will come into effect early next year.
The biggest changes will be for lenders offering High-Cost Loans (Loans with an Interest Rate >= 50%); there will be a cap on the interest and fees they will be able to charge on these loans as well as a raft of other changes.
Other recent suggested amendments that have come out the Select Committee process include:
introducing an interest and fees rate cap of 0.8 per cent per day for high-cost consumer credit contracts.
new restrictions on providing repeated high-cost consumer credit contracts, and providing high-cost consumer credit contracts to borrowers who already have a high-cost consumer credit contract.
treating contracts entered into by mobile traders as consumer credit contracts.
requiring the disclosure of contact details for the MoneyTalks service to be provided to borrowers who have been declined by a high-cost lender, made a hardship application or received an overdue payment reminder.
requiring lenders to provide statistical information about their business to the Commerce Commission on an annual basis, to improve monitoring and enforcement.
Suggested timings of the CCCFA Amendments are: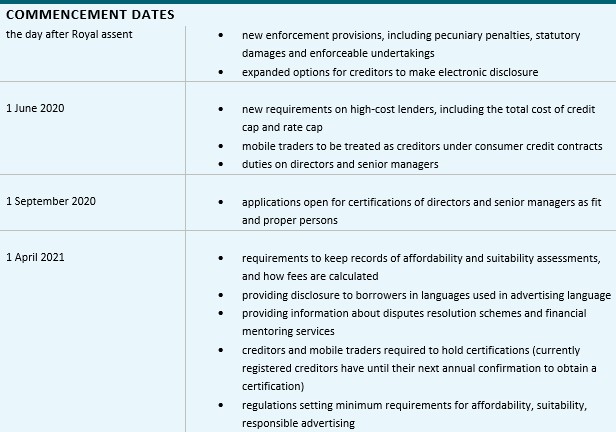 Once the legislation is finalised and there is clarity about the impact of the changes, we will be working to ensure the implementation of the changes are are smooth as possible.
However, any system changes will only be supported in finPOWER Connect, NOT finPOWER 5.
If you are not currently running finPOWER Connect, then we would strongly advise you commence discussions with your Intersoft Reseller about upgrading.